Labiotte Wine Lipstick Review
Two version are available; Matte and Melting. These are 5 wine shades of matte lipsticks with a creamy formula. These lipsticks are highly moisturizing and matte at the same time. The packaging is the same as mini wine bottles. You will find a lipstick sponge under the case of the lipstick cover which is used to create a gradient shade of lipstick so popular in Korea.  Color has a strong pigment and if you drink something the lipstick may transfer to cup or glass very quickly and can smudge the look. You need to reapply it. The application of these lipsticks is very smooth.
Labiotte Chateau Wine Lip Tint Review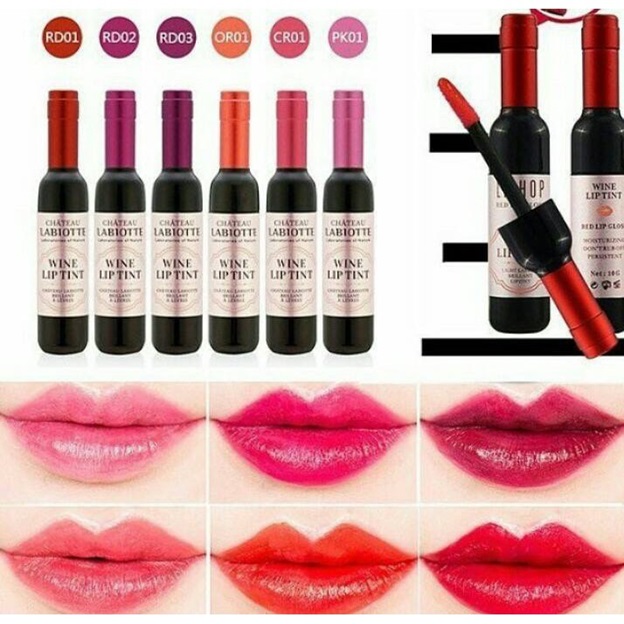 Labiotte cheatea wine lip tint comes in cute packaging with five shades. The name of tints is inspired by different wine shades. The smell of tint is like grapes juice and it also tastes like grapes. Consistency of the tint is watery but it does feel sticky or tacky after application. You can apply it with a slanted brush. Tints have concentrated hue and give your lips stains which look very nice and last about 24 hours. The only thing which bothers me is that it gets dry quickly and makes your lips dry too. But you can solve this problem by applying a lip balm over this tint. Lip balm does not transfer hue from lips.
Labiotte Wine Lip Tint Velvet   Review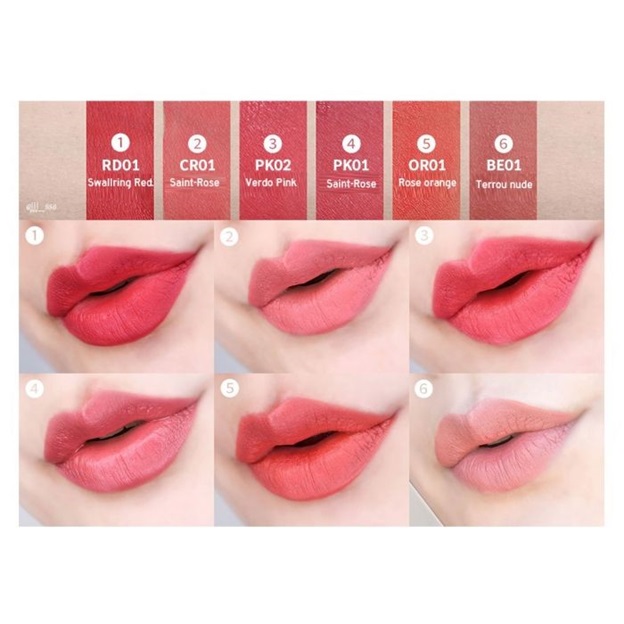 Labiotte wine lip tint velvet in the latest version of Labiotte chateau win lip tint. The packaging is the same as the classic version but the formula is different. The formula of the product is watery and moisturizes the lips very well. The pigment is strong and it does not stain the lips like the older version. The fragrance of the product is like paint but it goes after application.
Labiotte Chateau Wine Lip Tint vs. Labiotte Wine Lip Tint Velvet vs. Labiotte Wine Lipstick                                                          
There are some basic differences in both editions.
| | | | |
| --- | --- | --- | --- |
| Product | Wine Lip Tint | Wine Lip Tint Velvet | Wine Lipstick |
| Shades | 6 Shades | 6 Shades ( Brown is Exception) | 5 Shades |
| Packaging | Black bottles with slanted brush | Colored bottles with slanted brush | Black Bottles with a sponge applicator |
| Amount in Bottle | 7g | 7g | 3.5g |
| Fragrance | Grape Juice | Paint or Glue type | Wine |
| Formula | Watery | Matte Watery | Creamy |
| Transfer Proof | Yes | Yes | No |
| Effect | A Lip Tint Gloss | A liquid Lipstick | Matte Lipstick |
| Opaque | Yes | Yes | No |
Which one is the Winner?
All three lip products have their fan following but the most loved product is Labiotte wine lip tint because of its fragrance, ease of application, and cute bottles. Younger girls or teenagers prefer to use lip tint for daily use. For daily professional use in offices, Wine lip tint velvet is good. But if you want to get ready for a formal party or a date night then Wine lipsticks with most concentrated pigment are the right choice. You can get all three lip products by Labiotte at a discounted price along with other makeup and beauty products.